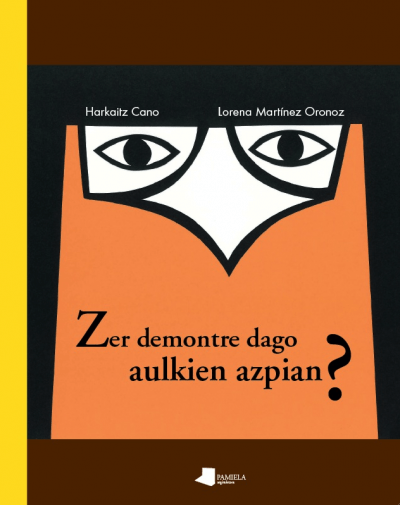 Zer demontre dago aulkien azpian?
2016
Editor: Pamiela
Year: 2016
ISBN: 978-84-7681-961-6
Pages: 103

Illustrated by: Lorena Martinez Oronoz
What on earth lives under chairs?


Anticipation and memory: melancholia explained to children and playfulness made easy for adults. Death as told through the laziness of the pirate Greenbeard and, happiness, through the snow. Short stories, aphorisms, poems... there are all sorts of texts in this book. They're exhortations to perform above all, inviting texts that can lead anyone to put together an impromptu theater play at home. These open, free pieces demand a sense of fun and complicity, because Lorena Martinez's free illustrations open each text up to new interpretations. The list of reasons to be silent, for example, is not a final list, because readers can add their own reasons to be silent to it. We still don't know what on earth lives under chairs, but it's only a matter of time: we're going to find out together.

Included in the IBBY Honor List 2018.

Twist
Correspondence