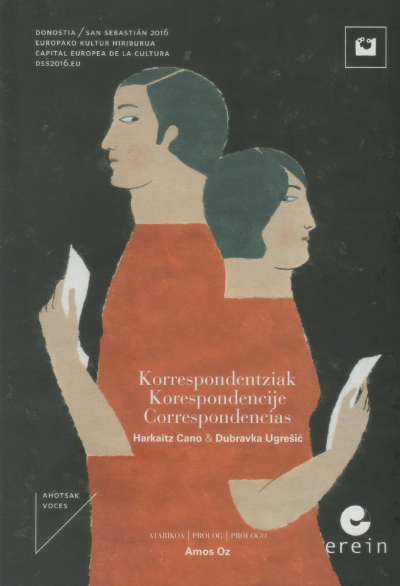 Correspondence
2016
Editor: Erein + DSS2016
Year: 2016
ISBN: 978-84-9109-157-8
Pages: 230
Foreword by: Amos Oz
Written with
Dubravka Ugresic
Translated by: Tihomir Pistelek, Luisa Fernanda Garrido, Gerardo Markuleta, Koro Navarro, Ellen Elias-Bursac + maramara taldea
Languages: Basque Spanish Croatian
«In conflicts such as the Middle East, two literary visions converge: on one hand, the poetic justice of the Shakespearean style where no one compromises, where principles and honour prevail over all, even life, but the stage ends covered in blood; and on the other, the sad human justice of Chekhov, with characters that discuss their disagreements, resolve them and in the end return home rather frustrated. However, they return alive» (Amos Oz)

This literary project is based on this idea from Amos Oz and will see European writers exchange letters on literature, conflicts and the role of writers.

Zer demontre dago aulkien azpian?
Itzal zaunka